Parties in Paradise
Premium Bounce House Rental Services in O'ahu
Party Rentals Oahu
Ready to amp up your celebration with the #1 party rentals Oahu has to offer? Parties in Paradise is the top choice for everything fabulous and festive! We're proud to be the premier locally owned and operated bounce house and party rental company near Honolulu. We're passionate about delivering exceptional party rental services in Oahu, creating unforgettable experiences for our valued customers. Whether you're planning a birthday celebration, corporate event, or any other special occasion, we have everything you need to make it a remarkable and memorable affair.
At Parties in Paradise, we understand the importance of hosting a successful and enjoyable party across O'ahu, Hawaii . That's why we offer a wide range of party rental options to suit every need and preference. From our diverse selection of bounce houses, inflatables, water slides, and obstacle courses to our themed party accessories and interactive games, we have the perfect ingredients to transform your event into an extraordinary celebration when you book the best party rentals Oahu can provide from our friendly and dedicated team.
What sets us apart is our unwavering commitment to quality, safety, and customer satisfaction. We carefully select and maintain our rental equipment to ensure the highest standards of cleanliness, safety, and durability. Our team of experienced professionals is dedicated to providing excellent service, handling delivery, setup, and takedown with precision and efficiency. When you choose the party rentals Oahu can't get enough of from Parties in Paradise, you can rest assured that your party will be a seamless and unforgettable experience for both you and your guests.
Party Supply Rentals Oahu Depends On
We've got the party supply rentals Oahu can count on for fun-filled and festive equipment! When it comes to making your Oahu event truly spectacular, Parties in Paradise is your go-to destination. So what makes us the ultimate choice for party rentals? Let's dive in:
Wide Range of Options: Hosting a toddler's birthday bash or a corporate retreat? No worries! Our vast inventory features everything from bouncy houses and inflatables to comfortable and convenient event furniture. No matter your party's theme or budget, we've got something to make it pop!


Tailored to Your Needs: Your event is unique, and your rentals should be too. That's why we offer customizable packages to suit your theme, style, and budget. Choose from water slides for summery fun, obstacle courses for team building, and much more.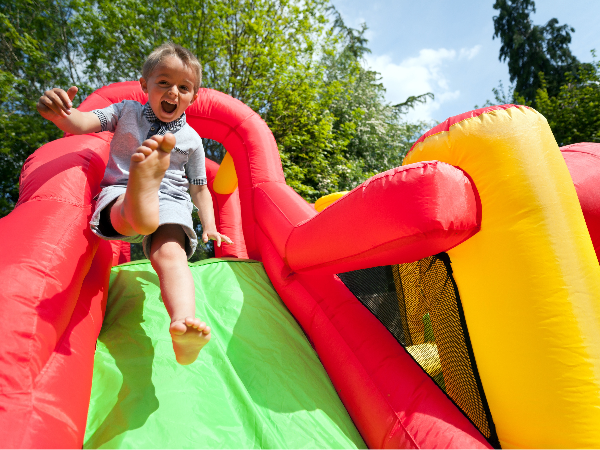 Convenient and Flexible Booking: There's no need for back-and-forth phone calls or lengthy paperwork with our state-of-the-art online booking platform! Just add items to your cart, fill in your information, and securely check out with our safe and streamlined system.


Exceptional Customer Service: Ever feel lost in the rental process? Not with us! Our friendly and knowledgeable team will guide you every step of the way. We help you pick the perfect items to match your event's vibe and take care of the nitty-gritty details like delivery and setup.


Timely and Hassle-Free: We value your time. That's why we make sure to deliver and set up everything well before your event kicks off. Plus, our team ensures that all equipment is in tip-top shape, so you can focus on what truly matters—enjoying your event! When you book the top-rated party supply rentals Oahu has to offer from our locally-owned business, you can guarantee safe, sanitized, and secure equipment that the entire guest list will love.
Your events aren't just another date on the calendar for us; they're opportunities to bring joy, connection, and a dash of paradise into your life and the lives of your guests. From the first phone call to the final teardown, our mission is to make your event planning as smooth as a tropical breeze. We pride ourselves on our attention to detail, our unswerving commitment to quality, and our knack for turning your vision into reality. So go ahead, take the plunge, and discover the Parties in Paradise difference. Your dream event is just a click or a call away!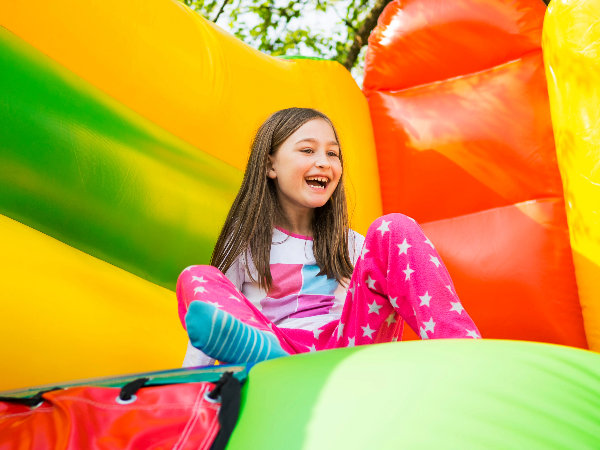 Take the Fun Up a Notch With Oahu Party Rentals
Ready to level up your next gathering with our premium selection of Oahu party rentals? At Parties in Paradise, we offer a wide range of inflatables, event furniture, and games that can transform any event into a true party paradise! Whether you're planning a family reunion, a corporate event, or a neighborhood block party, our versatile selections guarantee a good time for all.
From bouncy houses for the kiddos to comfortable event furniture that makes sure everyone has a place to sit and enjoy the festivities, we've got exactly what you need to help you throw an unforgettable event. Don't just host a party; create a paradise with us! Whether you're hosting a corporate retreat or celebrating a milestone, we've got the best party rentals Oahu can use to make it an over-the-top extravaganza.
Festivals, Fairs, and Field Days: Our Oahu party tent rentals are great for vendor fairs, school field days, and other outdoor events, providing ample shade and coverage.


Birthday Parties: From inflatables to outdoor games, we make birthdays a blast with the party game rentals Oahu can't get enough of!


Corporate Events: Impress your colleagues and clients with team-building opportunities that will be talked about for years to come!


Barbecues & Block Parties: Our outdoor essentials, like pop-up tents, folding chairs, tables, and sound kits, elevate any BBQ or outdoor gathering!


Graduation Parties: Celebrate academic achievements in style with our themed Oahu bouncer party rentals.


Retirement Parties: Make the honoree feel special with endless entertainment for colleagues and family.


Community Carnivals: Need game booths, seating, bounce house birthday party character rentals Oahu kids love, or even staging? We've got you covered.


Holiday Parties: From Halloween spookiness to Christmas magic, our inflatables and games will add excitement to any and every holiday celebration.
When it comes to hosting a party in Oahu, we understand that every detail matters. That's why our extensive selection of party rentals is designed to meet the diverse needs and preferences of our clients. From vibrant bounce houses that ignite children's imaginations to impressive water slides that offer thrilling adventures, our Oahu party rentals are crafted to create a fun-filled atmosphere that will leave a lasting impression on your guests.
With Parties In Paradise, your parties in Oahu will be taken to the next level. Utilize our party rentals to transform your backyard into a magical wonderland for a child's birthday party or set up an engaging and interactive environment for team-building activities that foster collaboration and bonding. Whatever the occasion, our extensive range of rentals allows you to create the perfect ambiance and atmosphere, guaranteeing an unforgettable party experience in the paradise of Oahu. Make your next event the talk of the town with our incredible selections and service!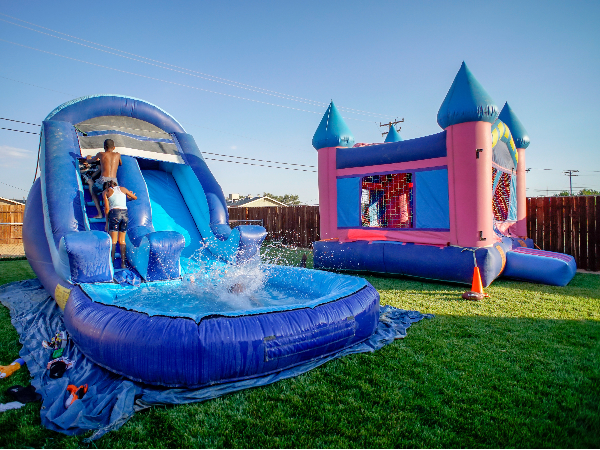 The Best Selections of Oahu Party Rentals
For unbeatable Oahu party rentals selections, choose Parties in Paradise! Hosting a laid-back family reunion or a fun-filled community-wide fair? We've got the rentals to fit the bill. Whether you're hosting a small gathering or planning a large-scale event, our team is dedicated to helping you find exactly what you need. Our party rental options are carefully curated to offer a wide variety of choices, ensuring that you can customize your event to suit your specific theme, guest list, budget, and more. With our high-quality rentals and attention to detail, you can trust us to deliver an extraordinary experience that surpasses your expectations and creates unforgettable memories in the picturesque surroundings of Oahu. You can mix and match to your heart's content, ensuring your event is as unique as you are. With our exceptional equipment and services, you're not just renting party gear; you're curating an experience that's sure to dazzle. Read more about some of our most popular Oahu party rentals and book online today!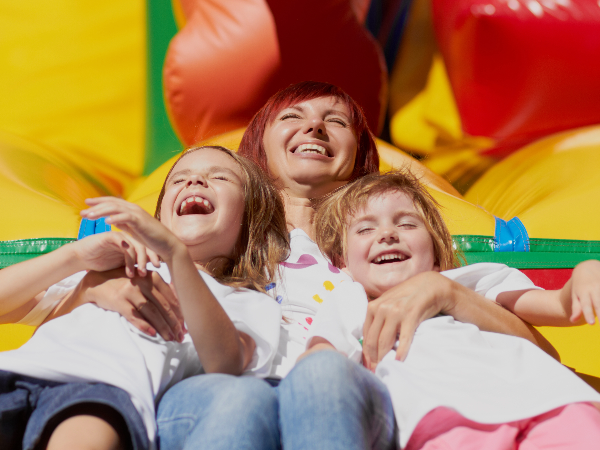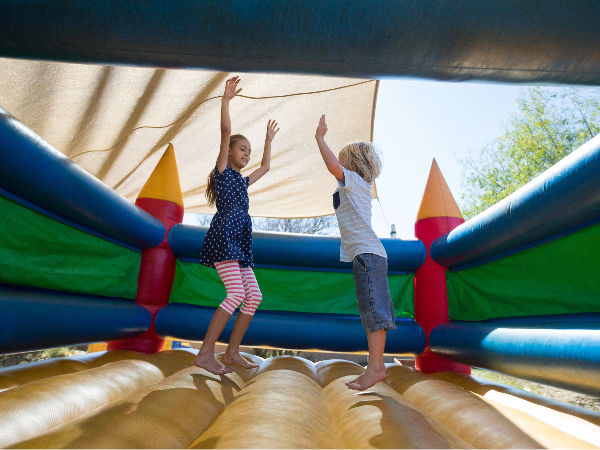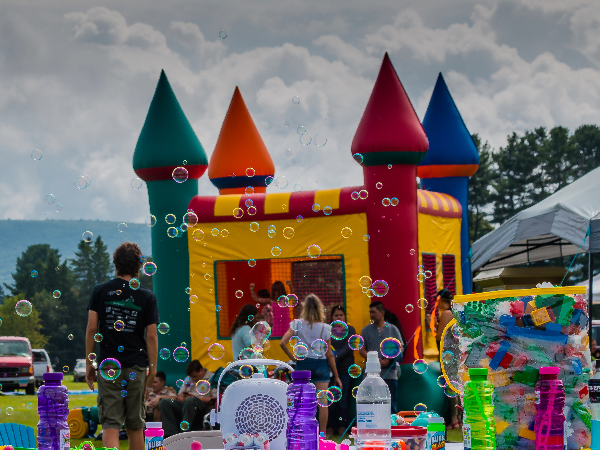 Castle Sticky Wall: Step right up and get ready for a royally awesome time with our Castle Sticky Wall! When you book this exciting inflatable game, you're not only getting a velcro wall—you're reserving an all-inclusive experience. Built with top-notch quality that would impress even the kings and queens of yore, this exciting inflatable is designed to create fun for all! And to make sure everyone gets in on the sticky entertainment, we've got you covered with three different suit sizes: small, medium, and large. This is a fantastic option for carnivals, school field days, community festivals, church events, reunions, and more!


4-in-1 Combos: Our exciting selection of combo bouncy castles is an all-inclusive supply of non-stop fun! We have dozens of character styles to choose from, ensuring you'll find an inflatable that matches your party's theme. Complete with a bouncing area, slide, and more, our combo inflatables are perfect for backyard birthday parties, business grand openings, local festivals, graduation celebrations, and so much more. If you've been on the hunt for character party rentals Oahu uses to excite and delight, look no further than our collection of superheroes, cartoon characters, princesses, and more! Check out our entire inventory for the #1 bounce house rental Oahu has to offer.


Shooting Stars Game: Slam dunk your way to an epic party with the Shooting Stars Game! This multicolored inflatable basketball extravaganza measures 15.5W x 16.5L x 16.5H and delivers a giant dose of fun. Add this all-star attraction to your event and have guests shooting hoops like never before. With our amazing selection of inflatable game party rentals in Oahu, you're guaranteed a slam-dunk celebration!


Adrenaline Ruch Jr. Obstacle Course: Race your friends to the finish line with our exhilarating obstacle course. This inflatable is the perfect party starter and keeps the excitement and adrenaline going at any and all events. We've got the bouncer party rentals Oahu can rely on to always bring fun and excitement. The obstacle course measures 17W x 26L x 15H and features two starting lines and a full multicolored course that leads down to a two-lane slide for lots of fun! Make your next event one to remember, and watch your guest's eyes light up with excitement!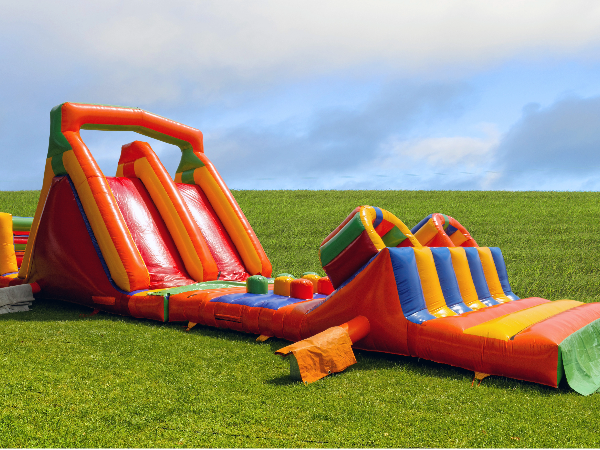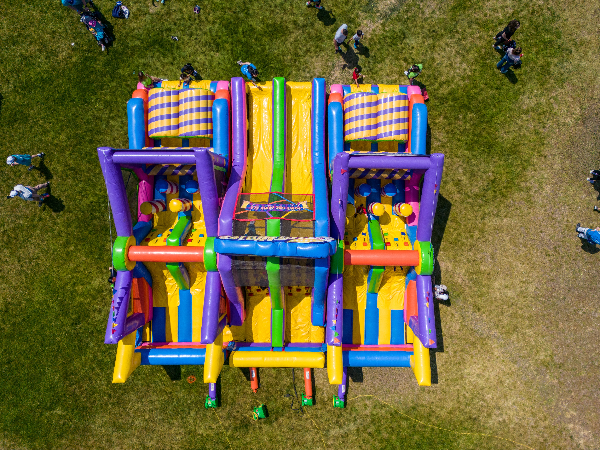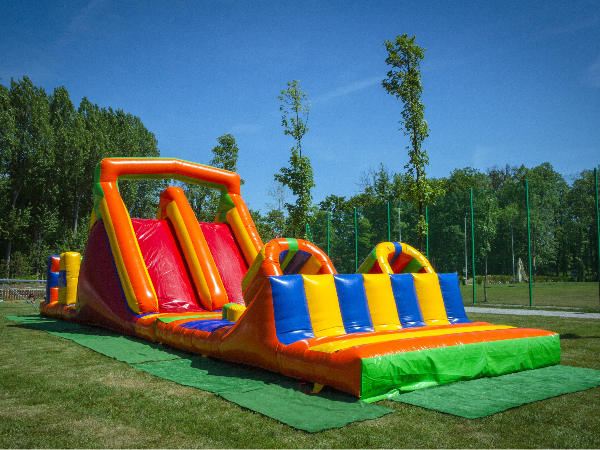 How to Easily Book Our Party Rentals on Oahu: A Step-by-Step Guide
Booking our party rentals on Oahu is as easy as 1-2-3 with Parties in Paradise! Our online booking process is so simple,
Explore Our Inventory: Check out our wide range of rental options. From bounce houses to event furniture, we've got something for every type of celebration!


Make Your Selection: Found what you're looking for? Great! Click on the Oahu Hawaii party rentals you want to rent and add them to your cart.


Provide Event Details: Choose your event date as well as your start and end times.


Review Your Cart: Before moving on, take a moment to review your selections. Make sure you've got everything you need to make your party a hit, then click the red "Checkout" button.


Fill Out Your Details: You'll need to provide some basic information, including contact and billing details, event information, and delivery location. Don't worry, your information is safe with us when you book party rentals north shore of Oahu from our team.


View Important Rental Information: Before completing your checkout, read through and check off our rental acknowledgments before clicking "Continue."


Select a Payment Method: Fill in your payment information using any major credit or debit card and pay the minimum amount to complete your reservation.


Confirm Your Booking: After payment, you'll receive a confirmation email summarizing your rental details with a digital copy of your receipt. Make sure to keep this email for your records.


Get Ready to Party: That's it; you're all set! Our team will reach out to confirm delivery and setup times, so all you have to do is kick back and get ready for the best party ever!
We make it as easy and effortless as possible to book party rentals online, but if you'd rather speak directly with one of our team members, feel free to give us a call at (808) 480-4597 today. So, what are you waiting for? Let's make your party legendary with our party rentals on Oahu!
Our Party Rentals Catalog
Interactive Inflatables
These units are collection of interactive games and obstacles.
Click Below to See Our Rentals!
Book Interactive Inflatables
Some Of Our Favorite Oahu Party Rentals:
Delivering Exciting Birthday Party Rentals Oahu Can't Get Enough Of
We've got the birthday party rentals Oahu relies on to take events to the next level of fun! As proud members of the Honolulu County community, we're happy to serve the following zip codes: 96801, 96802, 96803, 96804, 96805, 96806, 96807, 96808, 96809, 96810, 96811, 96812, 96813, 96814, 96815, 96816, 96817, 96818, 96819, 96820, 96821, 96822, 96823, 96824, 96825, 96826, 96827, 96828, 96830, 96836, 96837, 96838, 96839, 96840, 96841, 96843, 96844, 96846, 96847, 96848, 96849, and 96850. We're delighted to help you celebrate life's big and small moments across O'ahu, including Honolulu, Waianae, Kapolei, Ewa Beach, Waipahu, Mililani, Aiea, Kailua, Waimanalo, Hawaii Kai, Pearl Harbor, Kaneohe, and surrounding areas. Our ohana spans from the bustling cityscapes to the serene beachside communities, and there's nothing we love more than adding a splash of fun to local gatherings.
Our mission goes beyond just supplying party rentals. We're thrilled to have the Hawaii Department of Education among our esteemed clientele, contributing to educational and celebratory events for the keiki and the community. To us, being involved in the educational sphere is a way to give back to the place we call home, making each event more than just a party. We have the Hawaii party rentals Oahu understands are a part of our community tapestry.
Our Service Area
Ewa Beach
Waipahu
Mililani
Aiea
Kailua
Waimanlo
Hawaii Kai
Pearl Harbor
Kaneohe
As a locally owned and operated Oahu party rentals provider, we're proud to call this island home. When you rent from us, you're freeing up time to enjoy all the splendor our community has to offer. Why not make a day of it and visit local parks like Ala Moana Regional Park, Kapiolani Park, or Hanauma Bay Nature Preserve? And let's not forget iconic landmarks like Pearl Harbor, Waikiki Beach, and Diamond Head. With the birthday party rentals Oahu can rely on taking care of your event, you'll have more time to explore and appreciate the paradise we're all lucky enough to call home. When locals want to throw a bash that's the talk of the town, they choose Parties in Paradise for unbeatable, high-quality party rentals!
FAQs About the Top-Quality Cheap Party Rentals Oahu Can Provide
Do you have questions about the commercial-grade cheap party rentals Oahu customers use for all their events? Our FAQs section is your go-to hub for all the inside scoop on making your event fabulous with the help of our team! If you need additional information or have any other questions, feel free to contact us at (808) 480-4597.
Q.
What is the price of party rentals in Oahu?
A.
Our rental prices range depending on the item, rental time period, and delivery area, but we pride ourselves on offering high-quality products at competitive rates. Check out individual listings for specific pricing information.
Q.
How do I reserve party rentals?
A.
With the help of our user-friendly online booking system, you can view our awesome equipment, add items to your cart, and securely check out in a few simple steps! If you have any issues or would rather book over the phone, give us a call at (808) 480-4597, and we'll be happy to help.
Q.
Are your rentals safe for all ages?
A.
Safety is always our top priority. All of our party rentals of characters and water slides on Oahu go through rigorous testing and regular maintenance to ensure they meet the highest safety standards. We always recommend adult supervision for ages five and up. Party on, worry-free!
Q.
Do you have any rentals for large parties?
A.
Absolutely! Whether you're hosting a grand corporate gala or a massive family reunion, we're the Oahu party rentals Waipahu, HI, trusts to accommodate large gatherings without breaking a sweat.
Q.
Do you deliver to my area?
A.
We're proud to be the go-to choice for party rentals in Honolulu and across O'ahu! Our delivery area includes Waianae, Kapolei, Ewa Beach, Waipahu, Mililani, Aiea, Kailua, Waimanalo, Hawaii Kai, Pearl Harbor, Kaneohe, and surrounding areas. Get in touch with us if you don't see your city listed!
What Customers are Saying
Excellent fantastic reliable company!! We have used him for an event at my child development center and he was punctual and professional. When I tried to use him again a few months ago, COVID happened, but he was very easy to work with to ensure an IOU but long story short I am leaving the island so he ended up making a refund possible even though he's had no business the last few months bc of COVID.
- Mina C.
HIGH QUALITY, affordable bouncers. Justin was very professional, set everything up/broke everything down very quickly. My daughters loved it! Will be going through them again!
- Marlene M.
This is the second time I've rented from them and it won't be the last! They have the easiest website, best quality products, and friendly, professional service. Always the hit of the party! I'll always support a company that supports the military. Thanks for helping this stressed out mom throw a dream birthday party!
- Kim W.