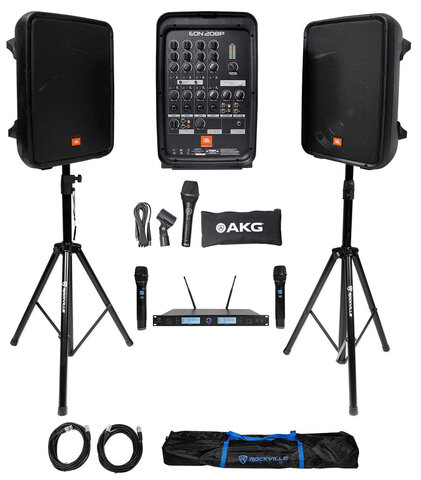 Description
Introducing our Portable Sound Kit, the ultimate solution for live sound in medium-sized venues. This comprehensive kit includes everything you need to deliver an exceptional audio experience.
The centerpiece of this kit is the wireless mixer, which allows for seamless control of your sound system through an iPad. This cutting-edge technology provides convenience and flexibility, enabling you to adjust settings and mix tracks on the go.
To ensure crystal-clear sound projection, we have included two high-quality speakers in the kit. These speakers, along with the included stands, guarantee optimal positioning and coverage for your venue. With their powerful output, you can be confident that your audience will experience immersive sound quality.
For added convenience and mobility, our Portable Sound Kit also comes with a battery pack option. This allows you to operate the entire system wirelessly, making it perfect for outdoor events or venues without easy access to power sources. Say goodbye to limitations and embrace the freedom to set up your sound system anywhere.
To cater to your diverse audio needs, we have included four wireless microphones in the kit. These wireless mics provide freedom of movement for performers, ensuring they can engage with the audience without being tethered by cables. With their reliable performance and clear audio transmission, you can focus on delivering an unforgettable experience.
Rest assured, we have thought of every detail. The Portable Sound Kit comes complete with all the wiring needed for a hassle-free setup. Simply unpack the kit, connect the components, and you're ready to go.
Whether you're a professional event organizer, a musician, or a presenter, our Portable Sound Kit is designed to meet your needs. With its comprehensive features and top-notch components, it's a reliable and convenient solution for delivering exceptional audio in medium-sized venues.
System Includes
2x RCF Speakers plus stands
Roadcase:

Beringer X-Air 16 wireless mixer
iPad with app
4 wireless mics and receiver
Battery and inverter to run fully off the grid
Bluetooth receiver
Extra XLR's as needed for additional insturments/inputs